Barrett M82A1 Sniper Rifle Gel Blaster
customers are viewing this product
Barrett, commonly known as the infantry artillery, is currently widely equipped by the US Coast Guard.

Firing Range: 20-30 Meters

Ammo Size: 7-8 mm

Products include:
1 x Barrett M82A1 body
1 x Magazine
1 x Scope
1 x Removable buttstock
1 x tripod
1 x Packet of Extra Gel Balls (5,000 PCS)
1 x USB Charging Cable
1 x Rechargeable Battery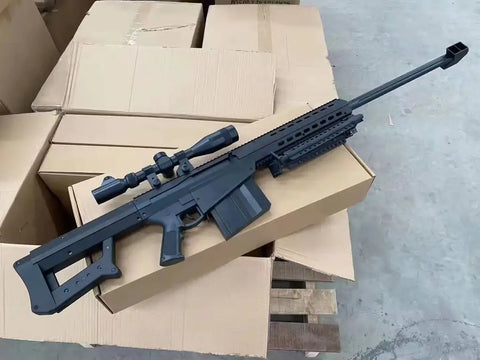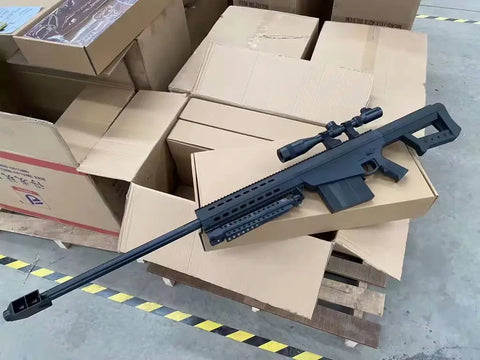 Notes:
This product is recommended for individuals aged 14 and above.
Charge the battery for at least 4 hours before use.
Soak the gel balls for 4 hours or more to maximize hydration.
After use, remove the battery to save power and prevent leaks.
Please do not modify the product, as we do not cover alterations to the default set.
Colors may appear differently on individual monitors due to differences in color settings and lighting.
Tips:
It should be noted that the gel balls soaks for more than 3 hours. To diffuse the gel balls, soak it completely; when loading the magazine, try to keep the balls as dry as possible. The magazine contains a motor, and prolonged soaking may cause it to rust.
Virtual power is included with all rechargeable batteries, they must be charged prior to use. The initial charging time is 4 hours, and subsequent charging times are 2-3 hours. To ensure safety, do not charge for an extended period of time without monitoring.
If you feel the battery power is insufficient while using it, stop using it immediately and replace it with a fully charged battery to extend the battery life. If the battery is overcharged, it will be damaged and will not be able to be used continuously.
If the toy has not been used for a long time, the battery should be removed and fully charged; And the water bomb should be poured out to avoid rusting the magazine's contact piece and the magazine itself.
Warning:
Wear safety goggles when using this product.
Do not fire at people or animals.