M1911 Gel Blaster Electric Pistol Toy Gun
customers are viewing this product
The M1911 has reached legendary status as one of the best gel blaster pistols of all time. Don't be fooled by It's older hopper fed design, This is a Gel Blaster Pistol to be reckoned with. Shooting 15 lightning high speed rounds per second at 20m distance means this competes with even some of the latest Gel Blaster rifles.

Witness the shooting capabilities once and You'll be hooked. Whether you're a long-time enthusiast or just starting out in the Gel Blaster hobby, This is a must have Gel Blaster!

INCLUDES:
1 x Brand New M1911 Pistol Gel Blaster
1 x Tactical Red Dot Laser Light Attachment
1 x Tactical Flashlight Attachment
1 x Rechargeable 1400mAh 7.4v Li-Po Battery
1 x Tip
1 x USB Charging Cable
1 x Scope Style Hopper
1 x Safety Glasses
1 x Grenade Style high capacity Hopper / Gel Ball Bottle


AMMO:
7 - 8mm
Completely biodegradable.
To hydrate, simply put submerge in water and wait 5 hours, to hasten hydration it is recommended to use warm water.

WARNING! Please only purchase these products if you have consulted your local law enforcement agency. Our products are completely legal in QLD and SA however each state varies in their laws.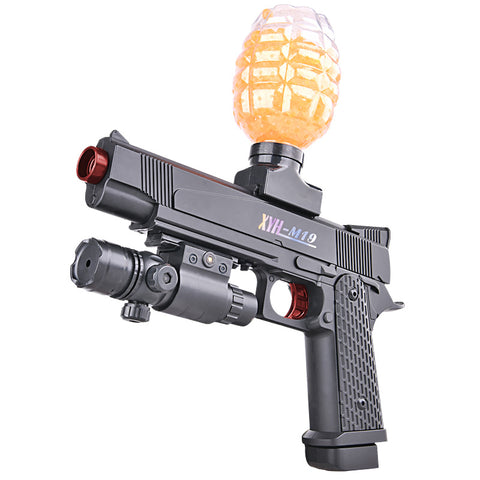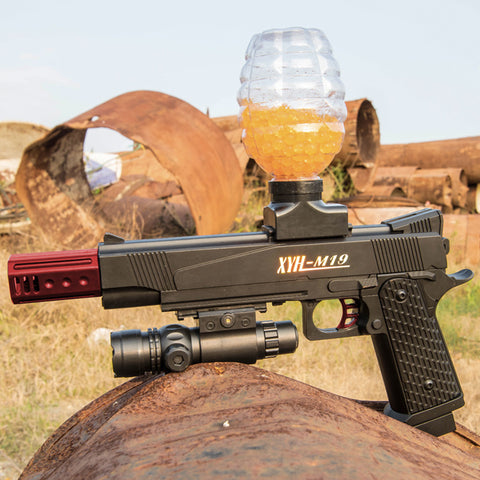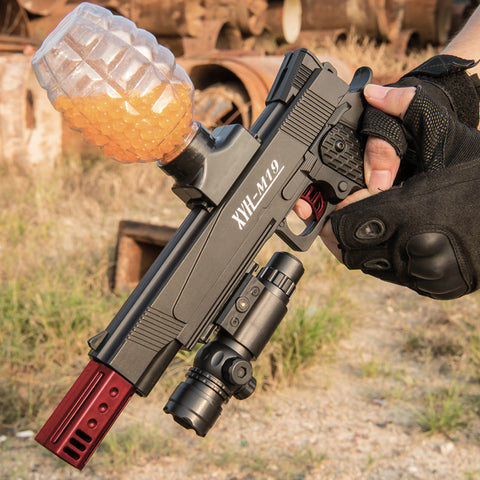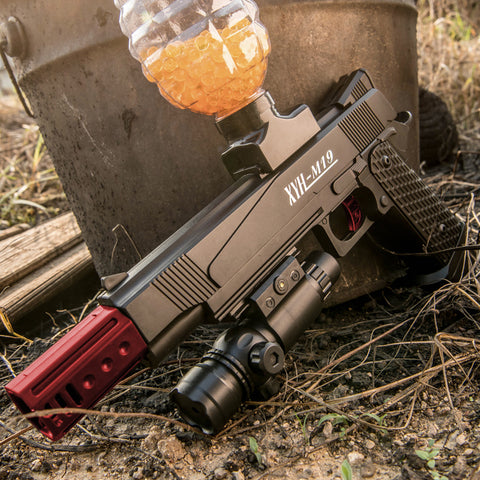 Notes:
This product is recommended for individuals aged 14 and above.
Charge the battery for at least 4 hours before use.
Soak the gel balls for 4 hours or more to maximize hydration.
After use, remove the battery to save power and prevent leaks.
Please do not modify the product, as we do not cover alterations to the default set.
Colors may appear differently on individual monitors due to differences in color settings and lighting.
Tips:
It should be noted that the gel balls soaks for more than 3 hours. To diffuse the gel balls, soak it completely; when loading the magazine, try to keep the balls as dry as possible. The magazine contains a motor, and prolonged soaking may cause it to rust.
Virtual power is included with all rechargeable batteries, they must be charged prior to use. The initial charging time is 4 hours, and subsequent charging times are 2-3 hours. To ensure safety, do not charge for an extended period of time without monitoring.
If you feel the battery power is insufficient while using it, stop using it immediately and replace it with a fully charged battery to extend the battery life. If the battery is overcharged, it will be damaged and will not be able to be used continuously.
If the toy has not been used for a long time, the battery should be removed and fully charged; And the water bomb should be poured out to avoid rusting the magazine's contact piece and the magazine itself.
Warning:
Wear safety goggles when using this product.
Do not fire at people or animals.